The guidances have been written by AZSAB members and it covers all necessary information and tips for incoming students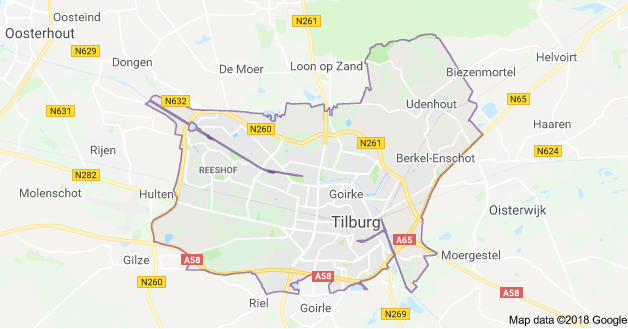 This guide has been specially prepared to give you relevant information about living in Tilburg and studying at Tilburg University. It contains useful tips and links to guide you through the first year of your student life.
With three universities and the only Rock Academy in Europe, Tilburg is a lively University City, with no less than 27,000 students living and studying here. This means that one in every 7 or 8 citizens is a student, just like you!
First step after enrolling at university, finding accommodation and arriving to Tilburg is registering at the City Hall. In case you arrive during official arrival days and participate in student in-take, university will help you to register. Otherwise you have to do it yourself by going to City Hall.
Another important necessity to consider upon arrival is opening an account in one of the local banks.
There are various banks available to open a student account. Watch out, some of the banks may require
you to be registered in the municipality to open a bank account. Tilburg University made an arrangement
with ABN AMRO Bank, which is one of the most popular banks in the Netherlands. International
students can open an ABN AMRO International Student Account. The ABN AMRO debit card can be
used in every store in the Netherlands and also on the University campus. For a small monthly fee (€
1.55) you will receive a bank card (Maestro) and access to internet and mobile banking. Most of the
supermarkets and many other stores do not accept MasterCard or Visa, so opening local account is
important. Unfortunately it is not possible for International Students to apply for a Credit Card.
In Tilburg, you will always be able to reach your destination by bicycle (also will make you feel more Dutch). It is better to buy second hand bikes through Facebook groups from previous year students which are so much cheaper than used bikes in shops. If you come for short time and don't want to buy bike or can't find one you can always order SwapFiets. SwapFiets is a bike rental where you can rent a bike for 12 euro a month and fix it for free whenever it breaks.
Facebook Groups for second-hand stuff:
If you want to travel by bus, tram, metro or train, It is better to acquire an OV-chip card.
The OV card can be purchased anonymously at all the metro stations which costs only €7.50 and can be used across the Netherlands. Therefore, you will need to load it with money to use for travel.
Or you can buy a personalised card (with photo) online making it possible to claim different discounts like a 40% discount on train travel. This discount is available upon a yearly payment of 50 Euros, and only applies to using the train between 9:00 and 16:00 and 18:30 – 6:30 the next morning ("off peak hours"), and on the weekend. (It makes sense to get this discount if you use the train at least once or twice a month).
When using the train, you need to have a minimum balance of €10 on your "personal" OV-Chipkaart (€20 for "anonymous" OV-Chipkaart).
As for the public transport within Tilburg, do not forget to check in and check out when you enter and leave whichever means of transportation you use. When you check in €4 is automatically taken off and when you check out the correct amount according to distance is deducted, however if you do not check out the full amount of €4 will be deducted.
Make sure your card is loaded before entering a tram or you will have to buy a paper ticket from the conductor for €3 for an hour of unlimited travel.
Although public transport does not operate after 00:30 AM, you can also find a night bus service called the which runs on Thursdays, Fridays and Saturdays, travelling between popular nightlife locations and residential areas. The night bus tickets cost €5.00 for a one-way trip.
In the Netherlands, students usually do not live on campus but have their own room. Finding good, affordable accommodation can be a problem here. (NOTE! The later you start looking for the room the lesser chance you have to find anything suitable.) Make sure you start looking for a room as soon as you are officially enrolled.
An average room in Tilburg costs 300-350 a month. Prices vary as there are public and private housing providers. Before you accept a room, please check which bills (e.g. gas, electricity, internet, TV) are included in your rent.
There are various options for accommodation such as TalentSquare; Private dorms in the city; Studios; Shared apartments with other flatmates and so forth.
If you want to look for accommodation yourself, the websites and facebook groups at the bottom of the page might be useful.
It is also possible (although very hard) to get a studio (single-room apartment). Those are more expensive than rooms and usually cost around 700 euro a month. However, it is possible to receive allowance (discount) from the Dutch government that will give you part of your rent back, making it more affordable. Check with the landlord whether particular studio qualifies for allowance. All studios in Talent Square, one of the most popular student housing complex in Tilburg, qualify for allowance. Find links for respectful websites in Links at the bottom of this guide.
There is a fully equipped Library on campus, Montesquieu Learning Center and workstations in every building around the campus. (see the map of the campus at the bottom of this guide). There is a smaller student library and City Library where you can study in the city center as well.
Tilburg University has a lot to offer depending on your interests and hobbies. If you want to make maximum of your student experience make sure to join one of 50+ study associations active.
Depending on your goals you can expand your network, learn new skills, have fun and meet new people by staying active on campus. Students get discounted access to student sport center where you can practice all kinds of sports, get access to classes, gym, swimming pools, sauna and wide range of other sports facilities.
Grading system in the Netherlands might be quite different from the one you're used to. To set your expectations right we provide short explanation.
In the Netherlands a ten point system is used in higher education. A grade of 10 is the highest and 6 is the minimum pass grade.
| | |
| --- | --- |
| Grade | Meaning |
| 10 | Outstanding * |
| 9 | Very good * |
| 8 | Good |
| 7 | More than satisfactory |
| 6 | Satisfactory |
| 5 | Almost satisfactory |
| 4 | Unsatisfactory |
| 3 | Very unsatisfactory * |
| 2 | Poor * |
| 1 * | Very poor * |
* NOTE! The grades 1-3 are hardly ever awarded and 9 and 10 are very rare.
ISTUDENT TiU: Check all sorts of things, from you lecture schedule to what's up for lunch in the canteen. All in one app.

Buienradar: Check our rain radar and graph before you leave;

9292 or NS Reisplanner Xtra: Travel planners for all public transports;

GoEuro Train Bus Flight: Find and book your ideal train, bus or flight across Europe;

Mobile Banking: Manage your banking affairs;

Gmail: Check your university emails in one convenient spot.

MyLebara Top-up: If you use Lebara sim card) Manage your account any time, anywhere.
Note: In case you are using an iPhone that does not recognise the above stated apps, then create a new Apple ID and choose the Netherlands among countries.
After your education in the netherlands, you shall follow the certain rules
In case you plan to work the guides below might be interesting for you
Take a look at the following websites and search for rent there!
NB! Note that for some of these portals and agencies, it is necessary to make a premium account for a certain fee that enables to see more details about the offer and/or to contact the owner.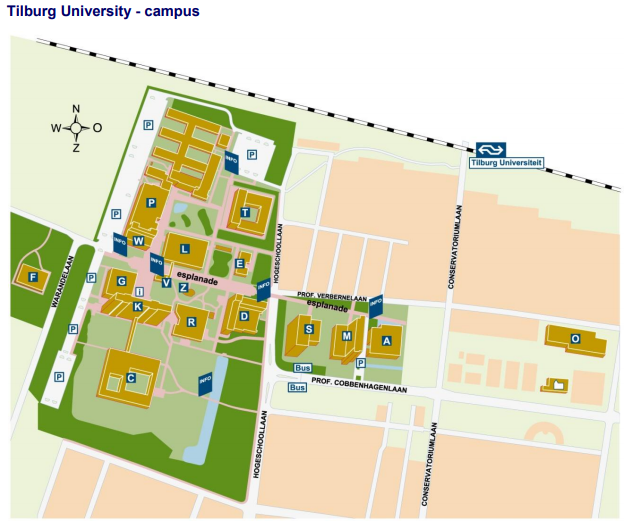 Legenda Symbol Building / Gebouw Facility / Voorziening
A = Academia building Student Services & Student Desk
C = Cobbenhagen building Auditorium / Aula
D = Dante building Tilburg School of Humanities
E = Esplanade building 'Black Box' & Grand Café Esplanade
F = Faculty Club Faculty Club
G = Goossens building – Lecture Rooms + some work stations
K = Koopmans building Tilburg School of Economics and Management (TISEM)
> Information desk / Informatiebalie (Tilburg University)
L = Library & IT services Library / Bibliotheek
M = Montesquieu building Tilburg Law school
O = Olympia building Sports Center / Sportcentrum
P = Prisma building Tilburg School of Social and Behavioural Sciences
R = Restaurant Restaurant (mensa) & Tilbury's
S = Simon building Tilburg School of Theology
T = Tias building Tias Business School
V = Vigilant building Security / Beveiliging
W = Warande building = Lecture rooms
Z = Zwijsen building Meditation and prayer / stiltecentrum
 = Maranatha Student Chaplaincy / studentenkerk
Visiting address – Tilburg University > Warandelaan 2 • 5037 AB Tilburg • Telephone +31 (0)13 466 9111
Visiting address – Academia building > Prof. Cobbenhagenlaan 205 • 5037 DB Tilburg
Post address – general > P.O. Box 90153 • 5000 LE Tilburg • The Netherlands
Website – Tilburg University