The guidances have been written by AZSAB members and it covers all necessary information and tips for incoming students
Written by: Farid Mammadaliyev 
Updated by: 
Vugar Ibrahimov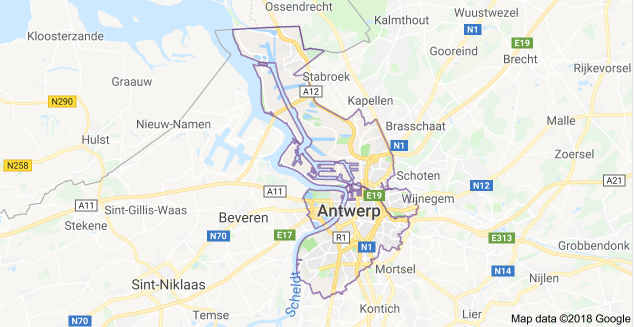 This article reflects general information and includes useful links to be arranged during your stay in Belgium. 
Belgium is often referred to as the heart of Europe and Antwerp is about 40 kilometers north of Brussels, and about 15 kilometers from the Dutch border. The Port of Antwerp is one of the biggest in the world, ranking second in Europe and within the top 20 globally. The city is also known for its diamond industry and trade. It is often referred to as the diamond capital of the world. 
Application and Admission to the universities and colleges in Antwerp
For getting relevant information (admission criteria, last submission periods, required documents, etc.) you may consult the relevant webpages of the universities and colleges in Antwerp given below:
Antwerp University – https://www.uantwerpen.be/en/

Artesis Plantijn (AP) University College Antwerp – https://www.ap.be/en/homepage

Karel de Grote University College –  https://www.kdg.be/en

Institute of Tropical Medicine – https://www.itg.be/E

Thomas More University College – https://www.thomasmore.be/

Antwerp Management School – https://www.antwerpmanagementschool.be/en/

Antwerp Maritime Academy – https://www.hzs.be/en/
Registration / Enrolment at Ghent University
First of all, upon your arrival, you are required to enroll as a degree student at the Registrar's Office of the University (Lange Sint-Annastraat 77, 2000 Antwerp). Check the deadlines and list of required documents for enrollment.

After your enrollment you will receive:
A student card;

Your account information. (will be sent to you by e-mail);

As soon as your account has been activated you have to print your own certificate of enrolment.

Upon your enrollment, you will receive an invoice. You can pay the tuition fee: 
at the Registrar's Office with a credit card or bank card (cash will not be accepted); or


by bank transfer.
Registration at the migration office
The registration policy is a bit different in Antwerp, as you are not supposed to directly call the immigration office and ask for an appointment. In Antwerp is a center so-called gate 15 which helps international students in getting a residence permit. In some universities, there is a contact person who makes an appointment for you. You just need to send all required documents to her and wait for an appointment (e.g rental contract, financial means, study certificate, visa, passport, and an info form). In the appointment, you are required to pay 24 euros. Within 3 weeks you get a letter where a pin code lies with what you will activate you residence permit card in Gate 15. 
As you may know, to apply for a long-stay visa in Belgium you must be able to prove that you have sufficient resources to cover all your expenses (solvency certificate). There are several ways to obtain proof of solvency documents. The first way is with the assistance of a university or college. University opens a blocked bank account for you where you will transfer deposit covering your expenses during the period of your stay in Belgium (a minimum estimated amount is 666 euros per month). After your arrival each month, University will transfer a minimum amount of 654 euros to your Belgian bank account. Therefore, it is necessary to open a bank account in Belgium shortly after arrival in order to be able to receive your funds. When you get do not forget to give a copy of your new residence permit to your bank, otherwise, it will be blocked after a while. 
There are many branches of different banks in Antwerp. Most banks are open on weekdays from 09:00 – 12:00 and from 14:00– 16:00. You can consult a list of banks in the center of Antwerp on the following website: 
goldenpages.be
However, local students would advise BNP Paribas Fortis. To open an account at BNP you shall provide your (1) passport, (2) certificate of enrollment from the university and (3) the document attesting your address in Antwerp (rental agreement). BNP does not require any fees for opening a bank account.
Important information for International Students regarding proof of solvency!
If you do not have enough means to transfer to the blocked account, then the second option might be useful for you which was tested by Vugar Ibrahimov and was successful. Your parents, one of your friends or anyone (does not necessarily need to be a relative) may provide a so-called Annex 32 document for you. This is an agreement for the acceptance of financial responsibility. This agreement is a declaration by a sponsor. If the sponsor lives in Belgium, the paperwork can be obtained from the municipality. If the sponsor lives abroad, the Belgian Consulate or Embassy can provide the forms needed. You may visit the website for more detailed information.
The third way of obtaining or extension of residence permit is to provide the relevant documents proving that you have the required amount of income.

If you are non-EEA national and you come to Belgium to study then you need to be registered in the Belgian Registry of Foreign Nationals and Belgian health insurance is mandatory. You will also be required to pay a contribution. Depending on your personal situation you have two options: 
Insurance registration as a "student". This option is mainly designed for students who will be studying in Belgium for a short period of time. You need to obtain a certificate from your institution which states that you have enrolled in a programme.

Insurance registration as a "resident in Belgium". Most students can register as a resident. Condition: you need to have a temporary Belgian foreigner's card. 
The most known insurance company is CM in Antwerp. Once you get your residence permit you can get health insurance which is 84 euro a year (100 euro for those who are above 26). Another well-known insurance agency is DeVoorZoorg. The price is the same.
As mentioned above, in Belgium, registration with insurance agencies is obligatory. Apart from this, you may register for hospitalization insurance for which you have to additionally pay. 
It is highly recommended to find an accommodation prior to your arrival. You can rent a room provided by the University or a room from a private landlord.
University:
Note that rooms provided by the University are in high demand; therefore it is recommended to apply online for a room at the university's dormitory as soon as you have received your letter of admission.  Benefits of the accommodation provided by the University:
The rental fees are lower than the ones on the private market;

The use of electricity, water, internet etc. is included in the rental fee;

Furniture is provided;

Facilities: a common room, a study hall, a bicycle park and a laundry room.
Private Market 
Normally, while renting a room from a private landlord you will be asked to pay a deposit of one (to three) months' rent. Keep in mind that you shall get acquainted with your rental agreement carefully to check whether electricity, water, internet etc. bills are included in the rental fee or not. An overview of rooms that have been inspected and approved by the City of Antwerp.
The most used option for accommodation is renting a single room or a flat sharing with other tenants.
As regards flats, go for this website: immoweb
The University Library comprises many libraries almost in each University buildings. You can find all information about location, opening hours of the libraries and books availability on the university website. 
The most popular and advisable way to move around in Antwerp is by bike.  You can rent a bike at public/state companies where give the students the opportunity to rent a bike for a few months or even one year (around € 15 for 3 months / € 45 for 12months).
To rent a bike you need to bring along:

student card

your passport or identity card

a € 60 deposit and the rental price in cash

Useful website amongst others: 
https://www.blue-bike.be/


https://www.2dehands.be/ 
Facebook group: https://www.facebook.com/groups/539951536050012/ 
Note that public transport in Belgium is managed on the regional level. Hence Brussels and Wallonia have separate public transport companies. For this reason, the tickets are only valid in Flanders.
Single journey: in the city centre a ticket is valid for 1 hour including changes of bus/tram without restriction, price: € 3. If you buy a ticket by SMS, you pay € 2,15 (send 'DL' to 4884).

Lijnkaart: in case you will be using city buses or trams more regularly you are better off buying a 'Lijnkaart' (€ 15 in presale for 10 rides). Do not forget to stamp each time you make a trip. Valid in all Flemish cities.

Day Ticket: allows you to travel through the city on any tram or bus for the whole day; it costs € 8.

You may also download the application of DeLijn and purchase tickets through the app. For more details about the tram and bus lines and prices please check: https://www.delijn.be/nl/ 
If you are younger than 26, and planning to travel frequently by train you may buy a GO Pass (valid for 1 year – 10 rides (2nd class single) between two Belgian stations; € 52); so one single journey only costs € 5,2. It's possible to use the Go Pass with several people at the same time. The Go Pass is particularly advantageous for longer journeys.

If you're 26 or older, you can use the RAIL Pass. This card gives the same benefits as the GO Pass, but it costs € 83 euros for 10 single, 2nd class journeys throughout the Belgian rail network and it is transferable (several people can use it). You can upgrade it to the 1st class for 128 euros.

For more information check: www.b-rail.be 
You may also download the SNCB application and purchase tickets through the app. Also, ask for weekend-tickets in the stations. They are 50% cheaper.
Before your departure, you have to deregister yourself as a resident of Antwerp. The immigration Office prefers online deregistration through www.antwerpen.be. The website is in Dutch, however.  Procedure: Select E-locket. Then type "vertrek". You will be able to select "vertrek naar het buitenland niet-Belg.". Select "verdergan zonder A-profiel". Select "aanvraag starten" and complete the electronic form.
Below deregistration procedure is also an option:
Complete the enclosed "change of domicile" document and sign it.

Send a scanned copy to the International Students Desk of the Immigration Office with email address: [email protected]
After processing, a document Model 8, proof of deregistration (in Dutch) will be sent to your email address. If you send the document on a later date than the date of departure ("from" date on the application document), the official date of deregistration will be the date of receipt, not the date of departure.

If you need the proof of deregistration immediately, in order to close your bank account, for example, it is recommended to go to the Immigration Office in Deurne in person and deregister on the spot. A passport picture is required. Document Model 8 will be handed to you immediately. It is important to deregister, otherwise, you will continue to be a Belgian resident according to the Belgian authorities (tax offices, etc.). 
Student job and various useful websites
If you want to stay in Belgium it is highly recommended to study at least one of the official languages of Belgium – Dutch, French, German. You can join free of charge Integration Courses of Belgium for foreigners through Atlas in Antwerp. You may also contact the VDAB which is the public employment service of Flanders. Official language is Dutch. There are also three other public employment services:
ACTIRIS, responsible for the Brussels-Capital Region. Official language: Dutch and French;

Le FOREM, responsible for the Walloon Region. Official language: French;

ADG, responsible for the German Community. Official language: German. 
What can the VDB do for me? If you are allowed to work in Belgium, the VDAB can help you in many ways. On vdab.be you will be able to find thousands of job offers. You can submit your CV on vdab.be for employers to read it and contact you. If you understand Dutch, you can publish your CV yourself on the website. Dutch or learn a certain profession, the VDAB offers many training courses. If you know Dutch, you can have a look for yourself in the training database, or you can contact a VDAB consultant. You can find more on their website. 
Do you want to apply for the unemployment benefit in Belgium? If you are unemployed and meet the conditions, then you are entitled to unemployment benefits. It is the RVA who decides whether you will receive benefits. In order to apply for the unemployment benefit, you need to register as a job seeker at the employment service in your region. if you live in Flanders, have a national number and you understand Dutch, you can register online at the VDAB. If this is not the case, contact a VDAB consultant. 
Some useful websites: